Responsive Website Designing
Current Time All The Website That Are Building Are Responsive. Means That Website Must Have The Ability To Change It's Look & Feel As Per Devices. Responsive website is designed to work the exact same way across all devices or mobile-friendly websites can adjust their layout based on screen dimensions or screen sizes. With a team of experienced web designers having hands-on experience in building responsive website can make good looing best design that have the he quality of being on any device such as desktop, laptops, tablets, smartphones, etc. LRB Digitalization experienced mobie friendly website designer team suggest their valuabe client to deveplop a responsive layout of website, whether their need is for new website, unique design for the current site or requirement of website updation or website Maintenance.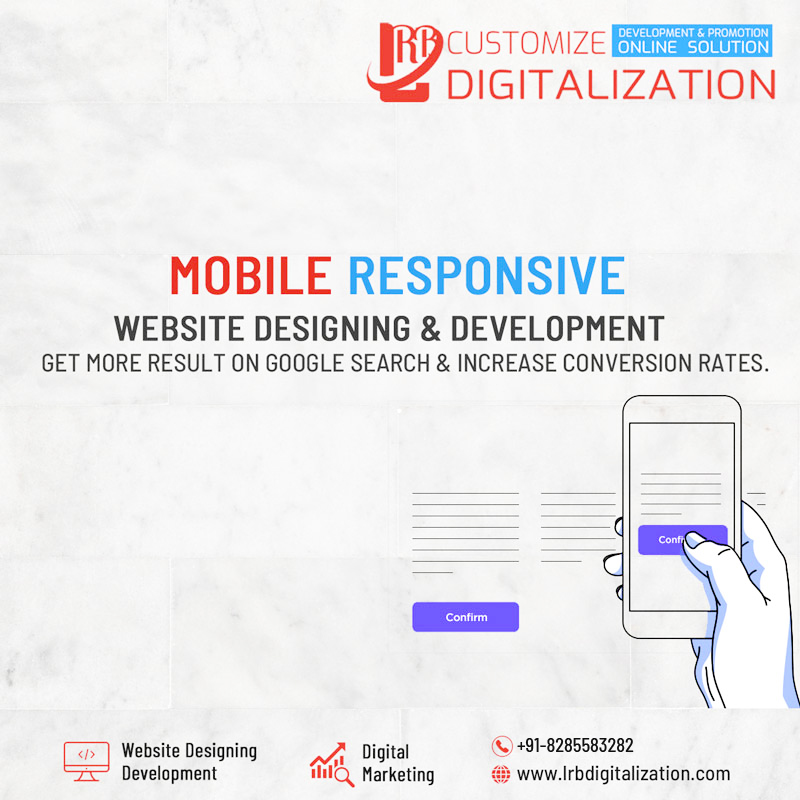 Mobile Friendly Website Makers
in Noida, Ghaziabad, Faridabad, Delhi NCR India
Reason For Making Responsive Website
Why Responsive Website :-
Few years ago website are not responsive. People had differ webstie for differnt size of devices so it is more difficult for the customers. That's became the need of Responsive Website
Responsive Website Features:-
Responsive have capability to change it's size as per devices size. Like same website have differ look in mobile phones, tablets and in desktop. LRB Digitalization offer it's responsive website designing services whole region of NCR like delhi, noida, gurugram, faridabad, ghaziabad etc.
Mobile Friendly Website Content?
The name Mobile Friendly Content clearly gives it's meaning or the Mobile Friendly Website Content not only appears good in desktop & computers but also it is cleary readable in smaller devices like mobile phone, tablets etc. too. Means all content are properly readable & buttons, links & navigation are clickable.
Reasons for Responsive Website
Mobile Friendly Website become the need as day by day increasing the usage of smart mobile phones. Most of the time user do browsing on their smart mobile phones.
Responsive Website have less loading time which increase the conversion rates of the the website because visitor stay on these responsive website more.If visitor stay less time on website then it will the website bounce rate that is not good for your business website. If the website design is good and it is mobile friendly then visitor spend much of time on website which is good for promotion of website.
For avoiding errors in searching engine your website should have responsive layout. Responsiveness helps website to gain best result in search engine ranking.
Because of mobile friendy layout of website users get better assist while they are on website doesn't matter what is the dimensions of devices or what type of device is used by the user.
Make enquiry now for Best Web designing services, custom web designing, PSD to website web promotion services in east delhi, laxmi nagar & delhi NCR for Your business?
Our Core Services
LRB Digitalization promise to give truthful web services in noida, delhi ncr, east delhi, laxmi nagar, faridabad, ghaziabad to the customers. LRB Digitalization's web services are website designing, website development, website maintainance/updation, graphice designing works & business promotion etc. in noida, faridabad, ghaziabad , delhi NCR.