Our Core Services
LRB Digitalization promise to give truthful web services in noida, delhi ncr, east delhi, laxmi nagar, faridabad, ghaziabad to the customers. LRB Digitalization's web services are website designing, website development, website maintainance/updation, graphice designing works etc. in noida, faridabad, ghaziabad , delhi NCR.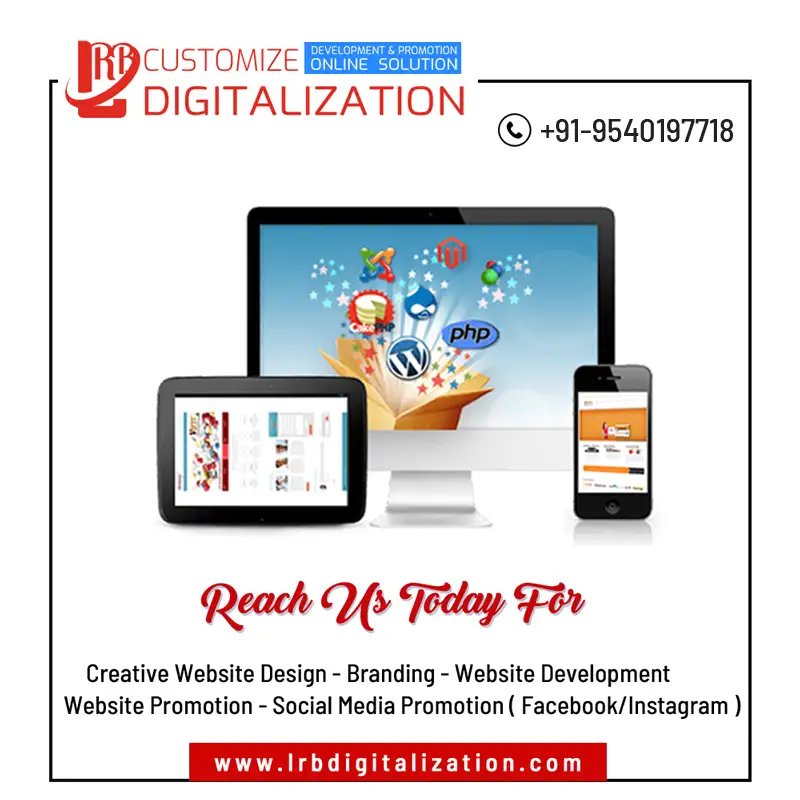 Web Services Company in Delhi
Being the leading web service provider company in Delhi NCR, Our web development team follows all the rules that are required for leading website and seo compatibility website. LRB Digitalization's web developers and web designers are punctual in task delivery.
Our expertise web development services that we offer in laxmi nagar, east delhi, noida, ghaziabad, faridabad & whole region of delhi ncr are Website Designing & Web Development, website promotion, internet marketing, Search Engine Optimization (SEO), e-commerce website, website maintainance, graphic designing works .
Not only we work on custom website design but also we can convert PSD in to responsive website too or in any website platform that you needed. We work on E-commerce website and CMS website too. Our website designer and developer give unique design to website with professional look. We work on custom design that means whatever you think about your website we can visulize it .
Only Website development is not enough for your business be online. Website promotion or digital promotion or seo is equally important for your business to give competition to your competitor. Our seo experts satisfied customers by doing best website promotion so that their website get best position on search in search engine.
Why ?
Your Business Should be Online
Today we are living in the Digital world. So it is important that our business should have digital or online presence to reach people easily. Today everyone is short of time so people are looking for more convenient and fast ways of shopping of books, electronics, household items like groceries, vegetables, fruits and all kind of services list is endless. So is your Business ready to serve them or you are still thinking orthodox ways of doing your business by targeting local limited consumers only. Your website plays key role in buisness promotion as oppurtunities in digital or online world are endless. Read More...
LRB Digitalization
Leading Website Designing Company in Delhi started by Website Consultant, SEO Expert and website designing & development Expert In Delhi, Noida, Faridabad & NCR.
LRB Digitalization's have well trained SEO Expert and website designing & development Expert team, those can visualize the customer's thinking about their business. The website design by web designer of us is not only visualize customers thought but also they guide them too for their website designing and how they can grow business by their website development. LRB Digitalization render their services in delhi, noida,gurugram, and whole region of NCR.

Why LRB Digitalization ?
Excellent Work

If customer doesn't pleased with our web services in delhi ncr then what is our work? So we prefer customer pleased first

Eco-Friendly Services

As we are web service provider company so if are not able to understand what customer wants or we are getting upset by customer web query then we can't exist in the web market.

Timely Delivery

As market says you got success when you are punctual same thinking exist for web designing company in delhi NCR means timley deliver is our main policy

Competitive Prices

LRB Digitalization offer it's web services : web designing, web promotion, web development, web marketing etc. at Competitive Prices from the market

Web Support

If anyone web service provider company think only the website making is enough they cheat people because work never end because with the time new technology comes in web services domain so we LRB Digitalization a web service provider company give for the website as per customer need and updation
How We Work
First Move

After getting your queries we plan first interaction with the customer and understanding customer urge.

First Website Design

Website design will depends on the clients requirement with refrence with our first conversation with the customer. We develope provisional design for you which can be customized or modified as per customer further thinking.

Design in to live

After improving design we make website as per latest website developing techniques.

Review time of Customer

At the end we give website final visual to the customer and collect their review. All the need ful changes as per the customer done on this stage before live website

Live Website After customer review that the all changes in the site is done we start working on marketing, promotion and tracking of site as per contract with customer
Support

Work never end! a website needs updation and maintainance time to time.
Make enquiry now for Best Web designing services, custom web designing, PSD to website web promotion services in east delhi, laxmi nagar & delhi NCR for Your business?
Customer Testimonials
LRB Digitalization redesign our website as i need. Their expert team are well experienced in website designing & development services.
LRB Digitalization develope new website for us. They did this within time and website look & feel so calm neat & clean.
LRB Digitalization redesign our website as i need. Their expert team are well experienced in website designing & development services.
LRB Digitalization develope new website for us. They did this within time and website look & feel so calm neat & clean.